How Far Is Mykonos From Santorini?
Searching How Far Is Mykonos From Santorini on GooGle? Behold the windmill and charming Chora houses in Mykonos, peeking from afar. If you've set your heart on voyaging to Mykonos or Santorini, you must be curious – can both islands be savored in a single vacation? How distant is Mykonos from Santorini? What mode of travel connects these idyllic destinations, and how much time shall it consume? Seek answers to these inquiries in the following prose.
Reasons to Explore Mykonos and Santorini (Mykonos vs Santorini)
Even though both islands are part of the Cycladic Islands group and have certain things in common, such as whitewashed buildings and blue-domed churches, they each have their own distinct personality. In stark contrast to the mountainous and volcanic topography of Santorini, which is home to quaint cave dwellings that gaze out over one of the most romantically compelling calderas in the whole world, Mykonos is characterized by a landscape that is, for the most part, hilly.
Be prepared to be amazed by the amazing sights of the volcano upon your arrival in Santorini. The views of the volcano are stunningly contrasted against the deep blue colors of the water that surrounds the island. Because Santorini is renowned for having some of the most breathtaking sunsets over the Aegean, it is an ideal location for a couple's getaway, a romantic adventure, or even a honeymoon.
On the other side, Mykonos is known as Greece's most famous party island; therefore, the atmosphere there is one of merriment and celebration. It is a contemporary, cosmopolitan, and even bold resort with luxurious beaches and busy nightclubs, where it is possible that drinking champagne for breakfast is the standard practice.
Exciting Activities to Enjoy Tours in Mykonos: 
Amazing Activities to Enjoy in Santorini:
Indulge in Santorini's beauty, hot springs, and beaches on this catamaran cruise.
Savor the taste of Santorini wine during this small-group tour. And there are also three of its esteemed wine estates.
Surrender to Santorini's charms on a private tour designed to showcase its highlights.
Maximize your time in Santorini aboard this relaxing and tranquil sunset sail, complete with a BBQ and refreshing drinks.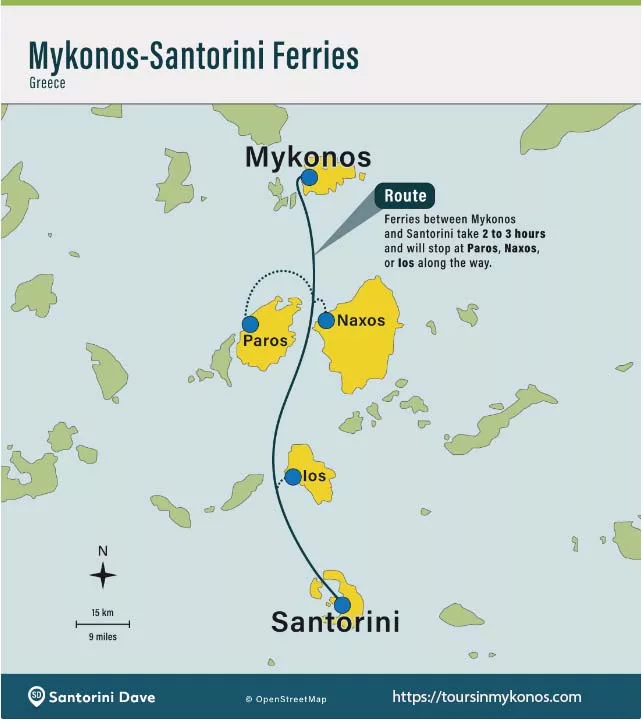 The Finest Path to Wander from Mykonos to Santorini, and Vice Versa
In the realm of Greece, it is customary for travelers to first land upon these shores and then embark on odysseys to neighboring isles, beginning, of course, with Santorini – the choicest jewel in the Greek island diadem. Once the merrymaking and exploration in Mykonos are accomplished, the path to Santorini beckons. Choose between a ferry and an airplane – we shall elucidate upon the superior choice for your journey.
Santorini and Mykonos, The Most Esteemed Islands in Greece – Their Spatial Embrace
These two islands continue to dominate as the most important pilgrimage destinations for tourists from all over the world, especially those who are used to lavish living. It is fortunate that they are so close to one another since the distance between them is just 147 kilometers (91 miles). Those who are traveling to Santorini from Athens by ferry should be aware that the distance between the two islands is around 331 kilometers, whilst the distance between Athens and Mykonos is approximately 173 kilometers. The length of the trip is determined by the kind of transportation that is selected.
The Ideal Route – Ferry or Airborne Flight? & How Far Is Mykonos From Santorini?
How Far Is Mykonos From Santorini, traversed gracefully by a boat? Is a ferry from one realm to the other indeed at your disposal? Certainly!
The convenience flows in both directions. For access to this Hellenic island, securing passage on a Mykonos-Santorini ferry is the most astute choice. During the tourist season, these vessels chart their course multiple times each day to each destination. To ensure a coveted berth aboard the ferry, we advocate procuring tickets a day or two prior to departure or, better yet, with even more foresight. Tickets can be obtained directly on the island. The sojourn upon the waves shall span approximately three hours.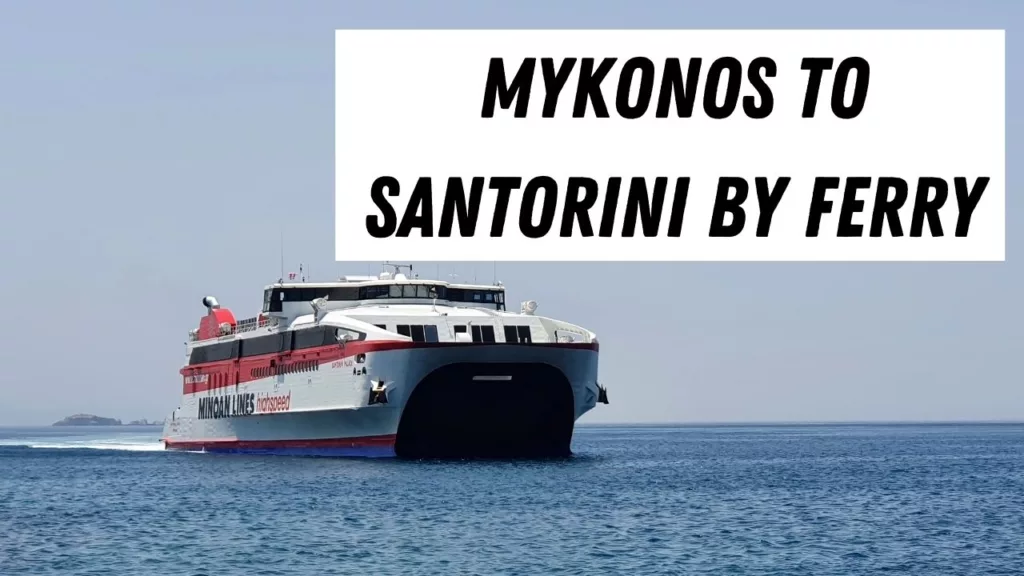 Opting for Celerity or Tradition – High-Speed Vs. Conventional Ferry
Two options lay in wait as you embark on your nautical expedition – the fleet-footed high-speed ferries and their stately counterparts. The former guarantees temporal savings yet deprives you of the joyous vista the Aegean Sea bestows from an outdoor deck. Moreover, high-speed ferries boast a heftier price tag. In contrast, the traditional vessels may see a touch of crowding, but if time is not of the essence, timely ticket acquisition ensures a delightful journey, though slightly protracted in reach.
A Flight from Mykonos to Santorini – How Far Is Mykonos From Santorini?
Do aerial paths connect these wondrous realms? Absolutely, especially during the high season, with charter airlines offering several weekly flights, typically four or five. For those disinclined to fritter away hours on ferries, these flights present an ideal solution. Though bereft of the scenic grandeur bestowed by ferries, they furnish ample opportunities to make the most of your day – a precious resource, particularly for those seeking an experience in Greece with brevity.
Table of Contents
Beware the Wait – Extended Layovers
A word of caution: these flights tend to be highly sought-after, necessitating advance ticket reservations. On occasion, a sole flight per week is the norm, ensuring an inevitable crowd. Additionally, should you opt for air travel from Mykonos to Santorini, or vice versa, brace yourself for layovers of a few hours staged in Athens or Thessaloniki. A minor inconvenience, indeed, yet the flight's direct trajectory shall unfurl over a mere 35 minutes.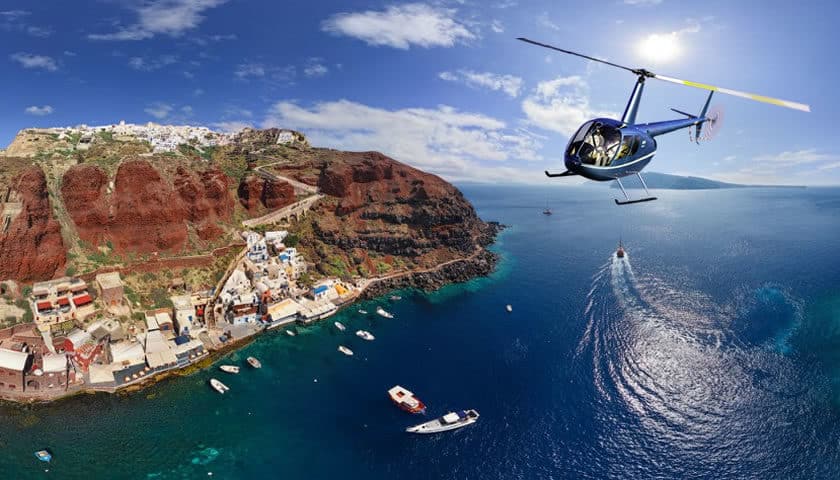 How Far Is Mykonos From Santorini? & Helicopter Fare from Mykonos to Santorini
Indulging in a scenic helicopter ride that travels between the two picture-perfect islands of Mykonos and Santorini is an alternate method of getting from one island to the other. Both of these islands are known for their allure. You may quickly acquire a reservation for this once-in-a-lifetime adventure by using the platform provided by Viator. According to the results of my most recent investigation, the first option is to take a helicopter trip from Mykonos to Santorini, which had a price tag of €1000 in the past. The flight from Mykonos to Santorini takes around forty minutes in total, making it one of the most convenient ways for tourists to enjoy a day excursion between the two islands of Mykonos and Santorini.
In addition, for those travelers who have an insatiable appetite for discovery, there is the tantalizing opportunity to embark on a helicopter journey from Santorini to a variety of other beautiful Greek islands.
A Day's Sojourn – Mykonos to Santorini and Back.
Is it possible to travel between these islands in a single day, or is it best to stay put on the island that one has selected? Thoughts of visiting another Greek port the next year or making the most of this trip before returning home? We assert with confidence that seeing both worlds is not out of the question, provided that a flight in a helicopter is arranged in advance. The possibility of flying between the islands of Mykonos and Santorini in a helicopter retains a fascination unlike any other, despite the fact that it costs a magnificent amount, with rates beginning at roughly €1000-€2000 euros for each individual passenger. However, helicopter adventures are often booked months in advance; thus, you should hurry to secure your seat and experience this unmatched and unequaled adventure. A scant forty minutes will be allotted for the whole of the trip into the clouds.
Conclusion of the Blog- How Far Is Mykonos From Santorini?
Mykonos is a world-famous Greek island located in the Aegean Sea. It is famous for its stunning beaches, crystal clear waters and vibrant nightlife. Above all, however, the island of Mykonos is favoured by celebrities from all over the world, which also translates into the island's prices for accommodation and restaurant meals. Mykonos has an area of 86,125 km² (33.25 square miles) and a permanent population of just over 10,000 people. The capital of the island is Mykonos (Chora). Not far from Mykonos is the island of Delos with one of the most important archaeological sites in all of Greece.