Are you thinking of what to do in Mykonos? If you're planning a vacation to the enchanting island of Mykonos, Greece, you're in for a treat. We have gathered 13 remarkable ideas on what to do in Mykonos, making sure you have an unforgettable experience. Mykonos offers a journey of discovery and delightness that will put you in a stance for a lifetime.
First The Myths and History
Before you dive into the modern allure of Mykonos, let's briefly touch upon its ancient mythology and history. According to Greek mythology, the island was formed from the bodies of giants slain by Hercules. Its historical significance dates back to the 5th century BC when it played a vital role in maritime trade and served as a strategic outpost during the Byzantine era.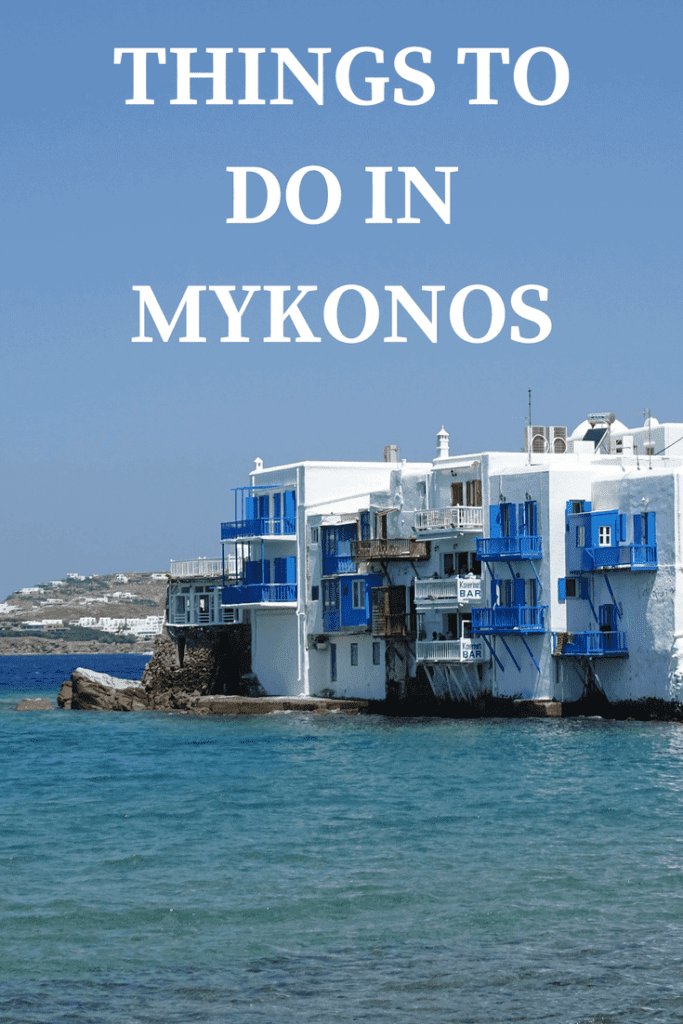 What To Do In Mykonos? 13 Remarkable Things For You
Tours in Mykonos presents what to do in Mykonos or unique things to do in mykonos blog as your go-to guide, offering insider tips, hidden gems, and the best-kept secrets to ensure you make the most of your time on this captivating island. Whether you're a solo traveler seeking soulful solitude or a group of friends ready to paint the town red, Mykonos promises an adventure like no other.
Paradise Beach
Begin your Mykonos adventure with a visit to the famous Paradise Beach. Known for its golden sands and crystal-clear waters, this beach offers a perfect blend of relaxation and excitement. Sunbathe, swim, and sip on refreshing cocktails at beachfront bars, or engage in thrilling water sports. The vibrant atmosphere and stunning sunset views make it a must-visit spot.
Super Paradise Beach (best beaches in mykonos)
Adjacent to Paradise Beach, Super Paradise Beach offers an even more vibrant and energetic atmosphere. It is the ultimate destination for those looking to revel in the island's famous beach parties.
As you step foot onto the soft, golden sand, you'll be captivated by the mesmerizing turquoise waters that stretch out before you. The beach's beauty alone is enough to leave you in awe, but what truly sets Super Paradise apart is its legendary beach parties. Here, the party never stops, and the fun knows no bounds.
Psarou Beach
If you seek a more sophisticated beach experience, head to Psarou Beach. Known for its upscale ambience and luxury amenities, it attracts celebrities and jet-setters from around the world.
Psarou Beach's allure lies in its upscale ambience and top-notch amenities, catering to the discerning tastes of celebrities, socialites, and jet-setters from around the world. The beachfront is dotted with elegant beach clubs, stylish lounges, and high-end restaurants, providing visitors with a seamless blend of relaxation and indulgence.
Elia Beach
For a tranquil and family-friendly environment, Elia Beach is a perfect choice. Its long stretch of sandy shore and shallow waters make it ideal for relaxing with loved ones.
Elia Beach's reputation as a family-friendly destination is well-deserved. The shallow waters that extend quite far from the shore make it a safe haven for families with children to enjoy carefree splashing and swimming.
Parents can relax on the soft sand, basking in the warm Mediterranean sun, while keeping an eye on their little ones as they play in the gentle waves. It's a place where families can create unforgettable memories together, building sandcastles, playing beach games, and sharing joyous laughter.
Agios Sostis Beach
Escape the crowds and find serenity at Agios Sostis Beach. This unspoiled paradise offers a peaceful retreat and an opportunity to connect with nature.
One of the most striking features of Agios Sostis Beach is its pristine and unspoiled beauty. Unlike many commercialized beaches, Agios Sostis remains untouched, allowing visitors to immerse themselves in the raw and natural charm of the coastline. The crystal-clear waters gently lap the shore, inviting you to take a refreshing swim or simply wade in the shallows. The absence of loud beach clubs and crowded sunbeds only enhances the sense of peace and serenity that envelops the area.
Windmills of Mykonos
Venture into the heart of Mykonos town to witness its iconic windmills. These historic landmarks offer a glimpse into the island's past as they once played a crucial role in grain milling. Perched atop a hill, the windmills provide a captivating backdrop for photography and panoramic views of the Aegean Sea.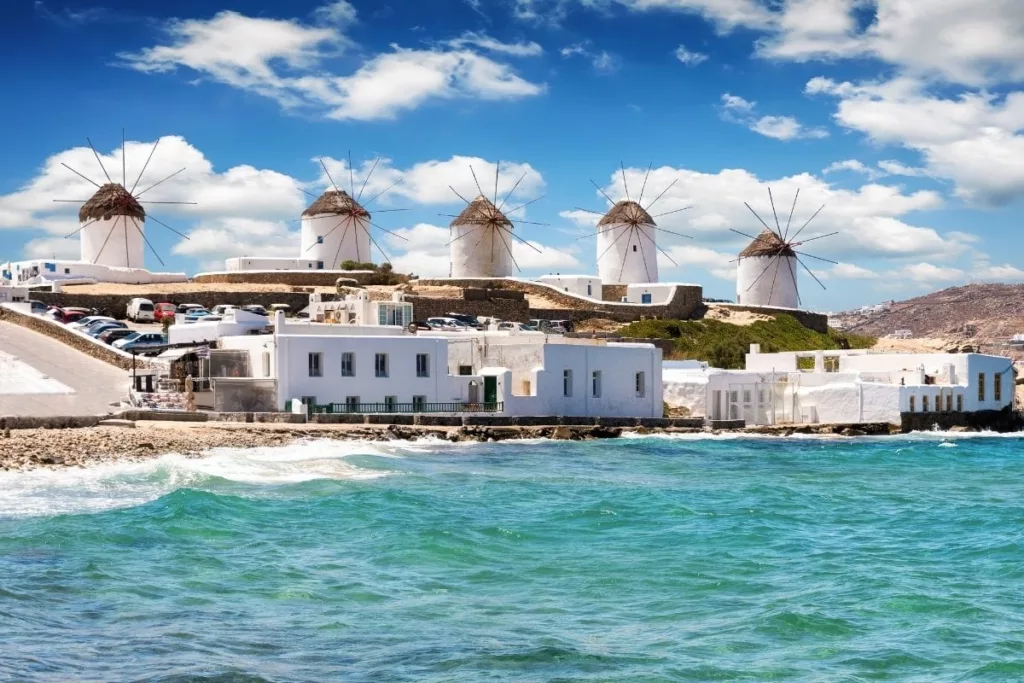 Mykonos Town (Chora)
The island's capital, Mykonos Town, is a postcard-worthy destination with its iconic windmills, narrow cobblestone streets, little venice mykonos and whitewashed buildings. Lose yourself in the labyrinthine alleys, where you'll find quaint shops, boutiques, and art galleries.
Beyond its scenic beauty and vibrant nightlife, Mykonos boasts a rich wine culture that dates back centuries. Wine tasting in Mykonos is a delightful experience, offering a taste of local flavors and the chance to explore the island's vineyards.
Ano Mera
A visit to Mykonos is incomplete without exploring the village of Ano Mera. Here, you can experience the island's authentic charm and witness the daily life of the locals. Don't miss a visit to the Panagia Tourliani Monastery, a stunning architectural gem.
Matogianni Street
The heartbeat of Mykonos' nightlife, Matogianni Street, is a bustling hub of bars, clubs, and restaurants. Revel in the vibrant atmosphere as you dance the night away.
From the moment the sun sets, the street comes alive with an electrifying energy, filling the air with laughter, music, and the clinking of glasses.
Immerse yourself in the charm of Mykonos walking tour, white-washed houses, and bougainvillea-clad alleys.
The vibrant atmosphere of Matogianni Street is truly one of a kind. Colorful neon signs illuminate the facades of bars and clubs, casting a vibrant glow that draws you in from every direction. The sound of music, from the latest hits to traditional Greek tunes, spills onto the street, inviting passersby to join the celebration.
Cavo Paradiso
Perched on a cliff overlooking the sea, Cavo Paradiso is an internationally acclaimed open-air club hosting top DJs and electrifying performances.
During the summer months, the party never seems to end at Cavo Paradiso. From late-night events that stretch till dawn, to special themed nights, every experience at this venue is extraordinary. Whether you're dancing with friends or making new ones on the dance floor, the sense of camaraderie and joy is infectious.
Take a short boat ride to Delos, an ancient UNESCO World Heritage Site, and discover the birthplace of Apollo and Artemis. Explore the ruins of temples, theaters, and mosaics that stand as a testament to its glorious past.
Discover the island's hidden gems and iconic landmarks with the exclusivity of a Mykonos private tours.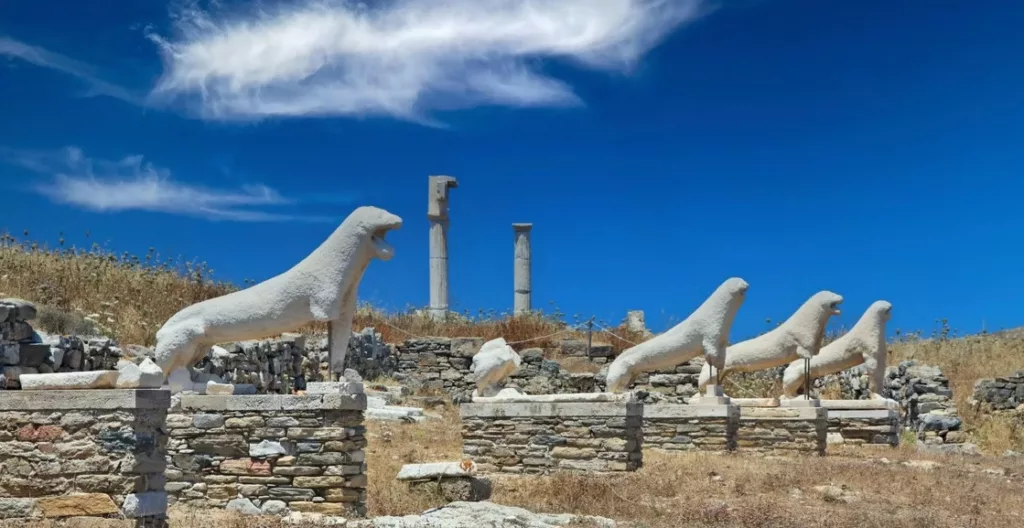 Mykonos Folklore Museum (museum of mykonos)
When visiting the Mykonos Folklore Museum, you can immerse yourself in the rich cultural heritage of the island and explore various aspects of Mykonian life.
Mykonos has a rich tradition of folk art, and the museum often exhibits various forms of artistry, such as woodcarving, ceramics, and embroidery. Marvel at the intricate craftsmanship of local artisans and gain insight into the techniques they use.
The museum may have displays depicting the history of Mykonos, including its role in trade, maritime activities, and interactions with other civilizations throughout the centuries. Explore the island's past and its evolution into the vibrant destination it is today.
Indulge in luxury aboard a deluxe sunset cruise around the island. Treat your taste buds to local delicacies such as louza, a cured meat, and kopanisti, a spicy cheese spread. Pair these delights with a glass of ouzo, the traditional Greek aperitif.
Enjoy a romantic seaside dinner at one of the island's waterfront tavernas, where you can relish the freshest seafood and local specialties while gazing at the mesmerizing sunset.
Table of Contents (what to do in Mykonos?)
FAQ (what to do in Mykonos?)
What is the best time to visit Mykonos?
The best time to visit Mykonos is during the shoulder seasons of spring (April to June) and fall (September to October) when the weather is pleasant, and the crowds are thinner.
Are the beaches in Mykonos family-friendly?
Yes, many of Mykonos' beaches are family-friendly, with shallow waters and facilities for kids.
Is tipping customary in Mykonos?
Tipping is not obligatory, but it is appreciated for good service in restaurants and cafes.
Are there direct flights to Mykonos from international destinations?
Yes, Mykonos has direct flights from various international cities during the peak tourist season.
Can I explore Delos independently?
While you can explore Delos independently, hiring a knowledgeable guide is recommended to fully appreciate its historical significance.
How do I get around Mykonos?
You can get around Mykonos by renting a car, scooter, or ATV, using local buses, or hiring taxis.
Final Words on What To Do In Mykonos?
We hope now you know what to do in Mykonos? Mykonos offers an all-encompassing experience that entices travelers from across the globe. From its sun-kissed beaches and vibrant nightlife to its rich history and mouth watering cuisine, the island captivates the hearts of those who visit. You will see the magic of Mykonos and create memories that will last a lifetime.
Join Tours in Mykonos as we embark on a journey through the labyrinthine streets of Mykonos Town, adorned with iconic white-washed buildings and vibrant bougainvillea. Discover the island's rich history, dating back to ancient times, with fascinating archaeological sites and museums that tell tales of its storied past.
Be ready to bask in the Mediterranean sun and dip your toes into the crystal-clear waters of beaches like Paradise Beach and Super Paradise Beach, where beach parties and water sports abound. Feast on delectable Greek cuisine at local tavernas and upscale eateries, savoring flavors that have stood the test of time.
As the sun sets, Mykonos transforms into a playground for night owls, with world-renowned clubs and bars setting the stage for unforgettable nights. Experience the island's magnetic energy as you dance under the stars and revel in the company of like-minded adventurers from across the globe. what to do in Mykonos cant be explained in a single blog to be honest as Mykonos is heaven on earth. Read mykonos vs santorini or Wine Tasting Mykonos Blogs for more info regarding Mykonos.
That's all for today regarding What To Do In Mykonos, For more information regarding Mykonos, Please read our other blogs-