What are the best beaches in Mykonos? 7 Best beaches in Mykonos, Greece
Mykonos is very famous for Europe's most popular summer tourist spots and the main attraction of the place is beaches. Mykonos is a stunning Island that is located in the heart of the Aegean Sea. Tours in Mykonos is famous for its vibrant nightlife, luxurious resorts and relaxing beaches. Thousands of tourists visit Mykonos to experience the beach vacation. The beaches are very attractive with their Crystal clear water and Golden sands.
The best beaches of Mykonos Islands are located on the southern coast. The southern parts are mostly protected from the winds that are secured for travelers. However, the northern areas are also beautiful and less crowded as well. The beaches of Mykonos are mainly 16 C to 25 C. It can reach 27 C in August.
In this article, we will explore the best beaches on the island or What are the best beaches in Mykonos that will help the visitors to bask In The Sun, swim in the azure water and experience the tranquil atmosphere on the beach. So what are you waiting for? Let's explore the adventures that best beaches in mykonos for families has to offer.
Can Also Check these 8 Best Things to Do in Mykonos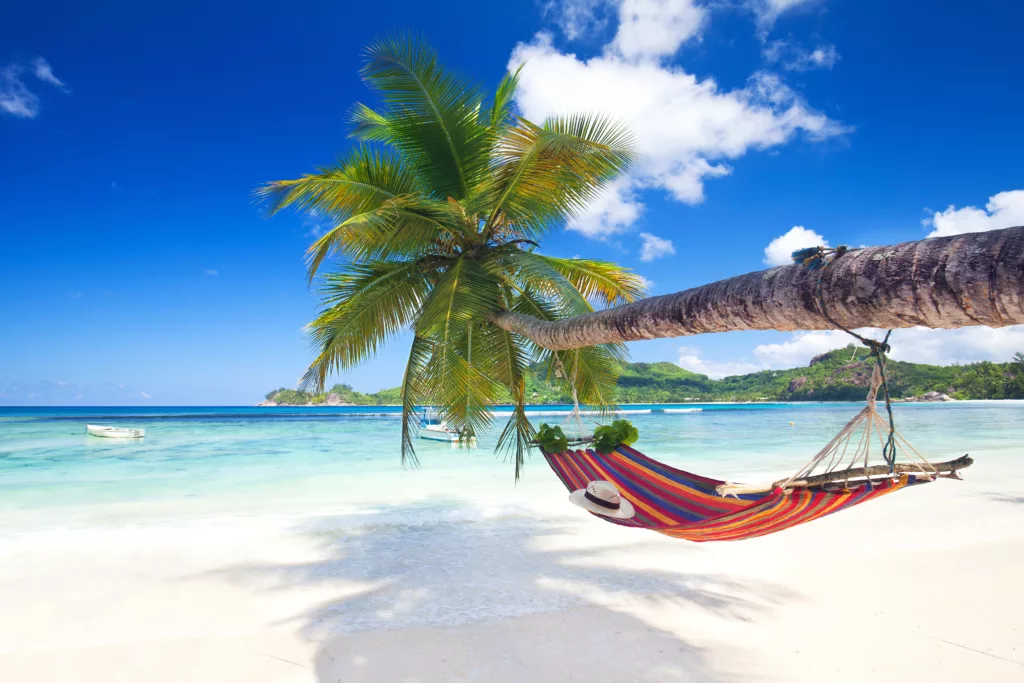 Paradise Beach Mykonos
Paradise Beach is a destination for sunbathers and clubbers alike, as the name suggests. This busy beach, which is only 6 kilometers south of Mykonos Town, has a lively ambience and is well known for its beach parties, which go from noon till dawn. The beach has plenty of accessibilities, they are like sun beds, umbrellas, and bars that pump up the vibe with upbeat music and vibrant cocktails. Water activities like jet skiing and parasailing are easily accessible to people who yearn for adventure. For those looking for a vibrant beach experience, Paradise Beach is a must-visit location with its non-stop party atmosphere and vibrant energy.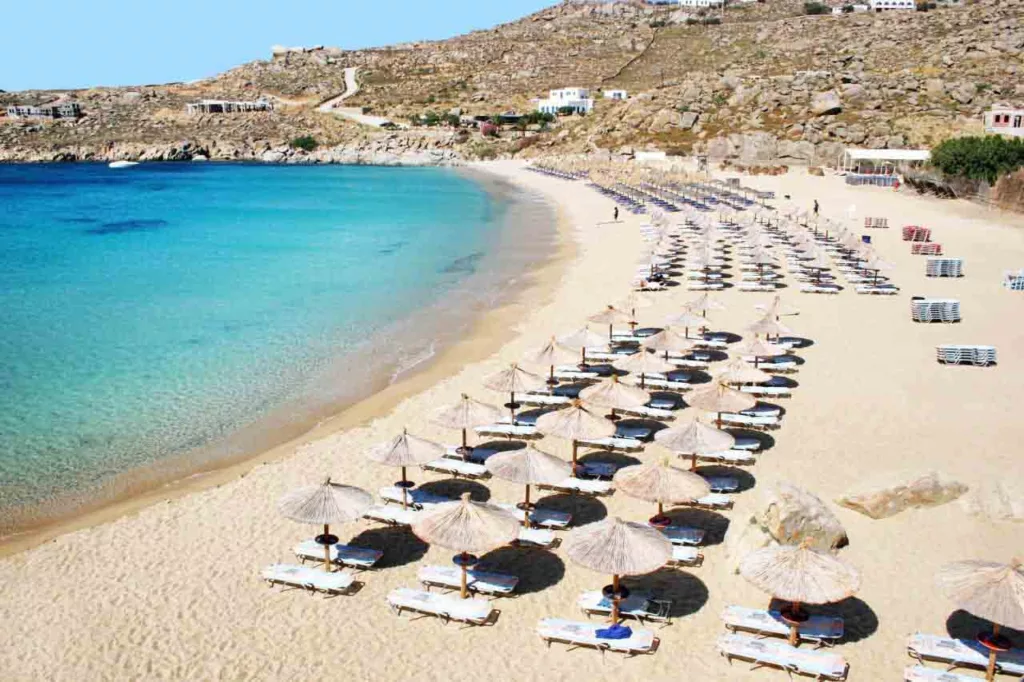 Super Paradise Beach
Super Paradise Beach is a hidden gem located close to Paradise Beach. Super Paradise Beach, which is well-known for its vibrant parties and multicultural beauty, provides a special fusion of leisure and excitement. While it and its neighbor have certain similarities, it serves a more varied clientele, attracting both families and young travelers. Delectable Greek cuisine is served at the beachside tavernas, giving guests a taste of the cuisine's unique flavors in a lively setting. Here, water sports lovers can participate in a variety of activities, such as windsurfing and paddle boarding. The beach becomes a center of music and dance as the sun sets, making it a favorite hangout for night owls.
Psarou Beach
Psarou Beach is a standout option for a more lavish and elegant beach experience. This beach is elegant and opulent and is frequented by celebrities and jet-setters. It is the perfect destination for relaxing and unwinding because of its fine white sand and blue waves. Psarou Beach offers VIP services, giving guests a luxurious experience with beautiful loungers and observant beach guards. Furthermore, the renowned Nammos Beach Club adds to its attractiveness by providing a luxurious setting where visitors may indulge in fine meals, champagne, and top-tier entertainment.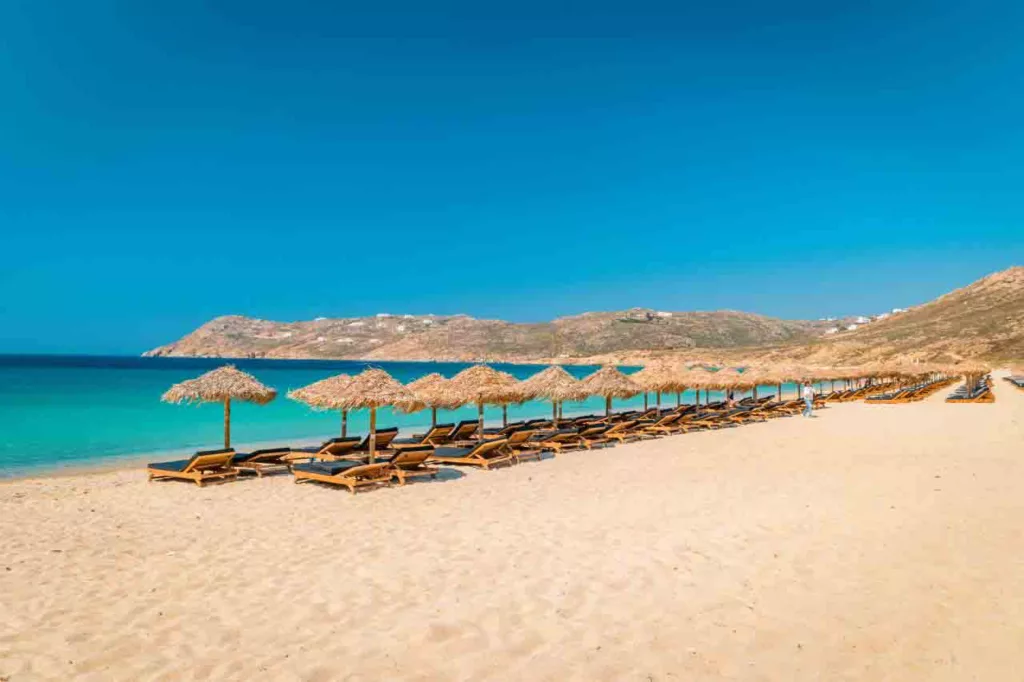 Elia Beach, Mykonos
Elia Beach is the ideal destination if you're looking for a peaceful getaway from busy people. Elia Beach, which is located on the island's southern coast, is one of its longest and largest beaches. It gives guests plenty of space to rest and take in the serene atmosphere. Although there are sun loungers and umbrellas available, the beach never feels crowded. Elia Beach also welcomes various visitors from all walks of life and is LGBTQ+ friendly. It's a great place for families with kids because of the shallow, calm waters. In addition, those who enjoy water sports can engage in activities like water skiing and swimming.
Agios Sostis Beach
Agios Sostis Beach provides a glimpse of Mykonos' untouched beauty. This beach, located in a remote corner on the northern shore, is largely undeveloped and offers a genuine and tranquil experience. Visitors can re-establish their connection to nature and truly appreciate the island's natural beauty because there are no beach bars or sun loungers here. The golden sand is ideal for sunbathing, and the crystal clear waters offer leisurely swims. Agios Sostis Beach is a favorite among locals and tourists looking for peace and a place to get away from the crowds.
Ornos Beach
Ornos Beach is a well-liked option if you're looking for a pleasant environment and a lively beach scene. This well-maintained beach is centrally located 3 kilometers southwest of Mykonos Town and provides a wide range of attractions. Ornos Beach offers a wide range of amenities, including water sports facilities and restaurants and cafes right on the beach. The various loungers make it a comfortable location to unwind while the shallow waters make it a secure area for kids to play. Ornos Beach is a great place to spend the whole day with family and friends because of its lively yet spread environment.
Lia Beach
On the southern shore, Lia Beach provides the ideal escape for anyone seeking some privacy and serenity. This beach is surrounded by rocky cliffs and green hills, and it is stunning in its natural magnificence. Its crystal-clear waters are ideal for diving and discovering underwater marine life. A lovely taverna located on Lia Beach offers tourists a tranquil location to enjoy the island's delectable fish and traditional Greek meals. The beach doesn't have the same level of activity as some of its competitors, but it nevertheless offers a serene setting that appeals to tourists looking for a relaxing getaway.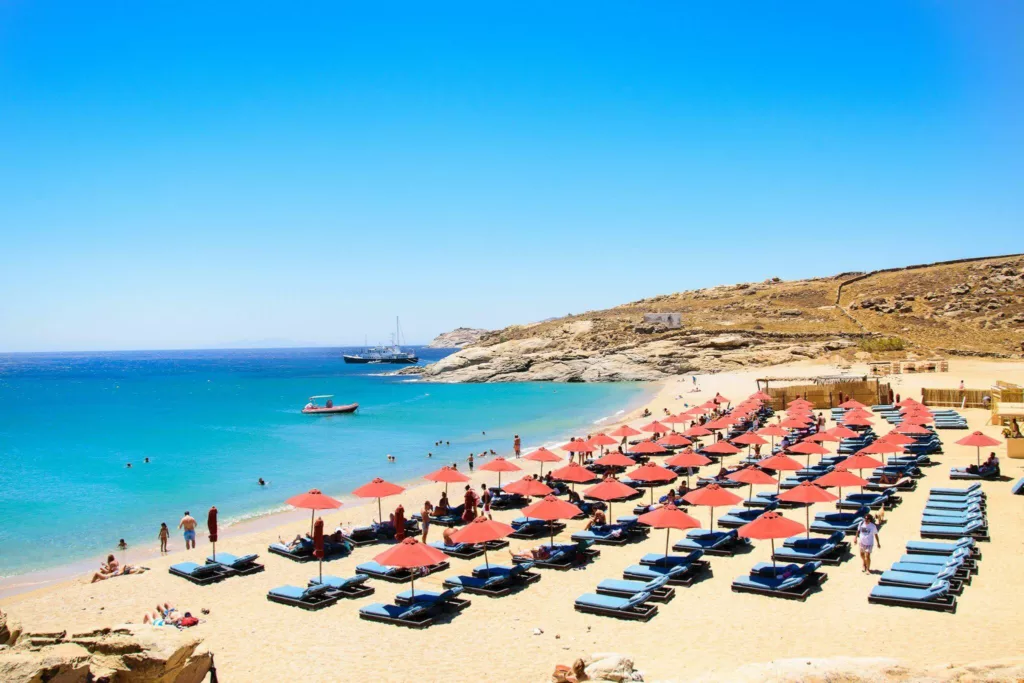 Table of Contents
FAQs (What are the best beaches in Mykonos?)
Which beaches have a bus system from Mykonos town?
The most easily frequented transportation beaches are Paradise paraga, Platys, Ornos, Agios Stefanos, Agios Ioannis etc. On the other hand, the Elia, Kalafatis and Super Paradise don't have frequent buses to go from the town. There are some beaches like Kalo and Panormos that provide buses when there is demand. Beaches with no transportation services are mostly easy ways to walk from the beach by bus are Agios Sostis, Kapari etc.
Beaches like Lia, Fokos and Ftelia have no bus services and can be reached by car only.
If I want a full relaxing trip, what Beaches will be the best?
If you want to afford the pride and relax in peace, you will be recommended beaches like Fokos, Agios Sostis and Ftelia. The northern coast of Mykonos is quite windy but on a peaceful day, they can be Unique and amazing.
Are beaches in Mykonos free?
All the beaches located on Mykonos Island are free for the public. People of all places both locals and foreigners, are free. You have to pay for the sunbeds if you want to rent them. You can take your space and spread your towel to spend a day at the beach in Mykonos for free.
Conclusion ( What are the best beaches in Mykonos? )
Still need help regarding What are the best beaches in Mykonos? Mykonos is a famous island with captivating beauty and a myriad of beaches. This Island can promise an unforgettable experience like no other. You can experience the lively beaches of the island and relax during your vacation. The island mostly offers every kind of option to suit every tourist's taste. If you want to have pulsating beach parties or relax, Mykonos has every option to complete your needs. To have an unforgettable journey to the Greek Paradise and immerse yourself in the magic of its beautiful beaches, warm hospitality and alluring culture you have to visit the island for once. If you want a blend of natural beauty and nightlife besides the seas, pack your bags and soak in the Greek sun.