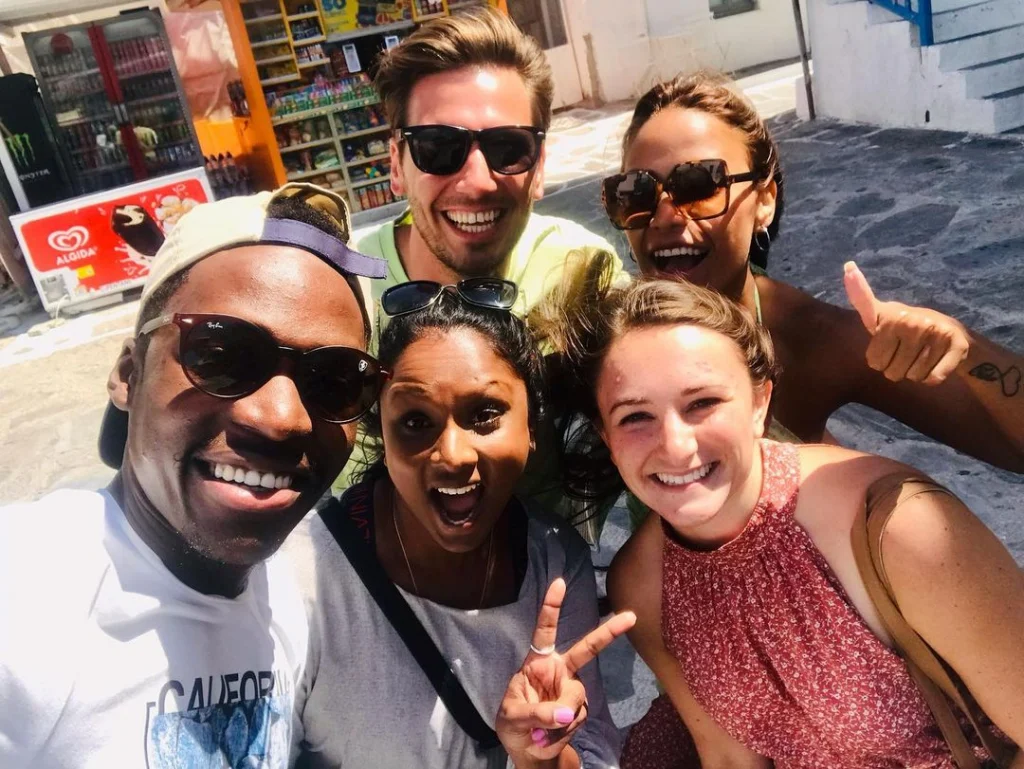 Wonderful walking tour! Learned a lot in such a short time from our guide Gibson. He is great! He made sure our questions were answered. He took us through the small paths and told us stories about it. He brought us to the famous windmills just in time for the sunset. Perfect timing! It was almost like a private tour since no one else was with us. We suggest going this time of the year. Less crowded and very cool breeze. We will recommend this tour to our friends and colleagues.

Marilou
This is an amazing tour for those who want to explore top sights of Mykonos in 3 hours. The tour started by picking us up from hour hotel and start with the north entrance of Mykonos town (i.e. Remezzo), then to the main square of Mykonos Town called Manto Square, goes through difference little walking ways inside the town, then goes to the windmills, then to little Vince, then to Paraportiani Church, goes back again to the different little walking ways and back to the main square of Mykonos town with an option as well to drop you to your pick up point. Our tour guide Gibson was very knowledgeable, kind, and informative. He took a lot of amazing pictures for us and recommended different places for us to visit. The walking tour was going in very good pace and we stopped in different places just to enjoy the scenery and take amazing pictures of the Sunset. We differently recommend this amazing tour for everyone.


Faisal – Saudi Arabia
we enjoyed the tour and Gibson was able to answer all our questions, it's worth the money if you are interested in the city's history

Great little tour of Mykonos town. Gibson our guide was great – charming, knowledgeable, relaxed, helpful and full of recommendations. Bumping into Peter the Pelican was hilarious.

Gibson was very engaging. Great overview of Mykonos town. Gives you the lay of the land and then you can navigate on your own. Had a great few hours touring the city.

Gibson was the best host. He was down to earth and really knew interesting facts.

The only downside to the WINDY tour was the confusion about getting back to the ship if you stayed in Mykonos Town

It was an easy hike with an amazing guide Gibson. We stopped by for a coffee in the morning to get some energy to get us going, enjoyed tons of beautiful views, had some beach time, and just enjoyed an awesome conversation with Gibson about everything and nothing. Thank you for a relaxing day!

Francis is a great guide and speaks English very well. The tour takes you to a remote beach that is more popular with the locals. Definitely worth seeing! If you are used to taking longer walks, the tour is not a problem. Sun protection is highly recommended as there is hardly any shade.

Great trek with superb guide, Gibson, and well as two fun Canadian girls! The only issue was the trek was only around 5km? I had booked the trek which stated we could continue onto the second part of the trek after lunch taking it to about 10km. This is what I wanted…a good 10km trek. This was not the case and we had to be collected at the 5km point at Fokos Beach? Our guide advised we would have to upgrade or pay more to continue but was not an option today so please be aware this is not a very long trek. More of a walk really. Still it's great fun!

The tour guide was very nice and informative. He brought me all around the best spots and allowed me to take great pictures! I learned so much and enjoyed every moment of it. Would definitely book again!


PEGGY_B, Oct 2021

It was nice to get out of the port city and explore another part of the island. Our guide, Gibson, was fun and energetic. We did the six mile hike which was brought us to a couple of isolated beaches. This is an easy to moderate hike. Great experience, great time!


Andres C, Aug 2021

A fantastic experience. The hiking guide, Gibson, was absolutely amazing. We hiked across many parts of Mykonos with some incredible views. One is given a backpack with snacks and water and a towel if you go for a swim. You get to see incredible beaches and the view from the top is awesome

We started off our morning being picked up and taken to the farm for a quick visit where Gibson packed our bags and made sure we had snacks and extra water. We hiked through the beautiful landscape of Mykonos where Gibson told us about the country of Greece. He was patient, informative, very aware of what we needed and wanted to accomplish on our hike. I would highly recommend to you to hike in Mykonos with Gibson as your guide. We got to go for a swim at a beautiful beach and ended our afternoon with a lovely Greek lunch!

Ed K May

Great hiking tour of the lesser visited beaches of Mykonos with stunning beach views from the top and an opportunity to have a swim along the way. It gets you away from the crowds of Mykonos. Gibson was a great guide who gave us an insight into life on the island. We really enjoyed this tour.